Google Groups have long been public forums where users across the web gather to discuss specific interests or get technical support. Groups for business brings that same functionality into your private internal network.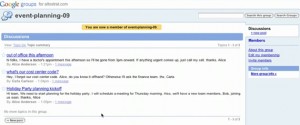 E-mail can sometimes be cumbersome when coordinating a team. When you need a central space to collect ideas and share documents (but you're not interested in building a web page in Sites), Groups offers a solution.
Employees can create discussion groups on their own and subscribe, either by e-mail or via a Groups dashboard, which lists new posts like a news reader.
Rather than e-mails going out to individual inboxes, a group thread remains visible to all of your subscribed team members, and users can go back to it for reference, to add more information, and even share docs and calendars.
Using Groups for business discussions and project management creates a communal and searchable database of information that employees can go back to whenever needed.