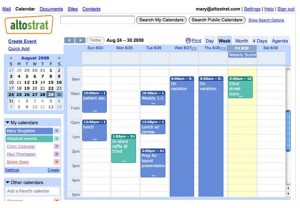 Google Calendar provides an efficient and intuitive way to keep appointments and events synced across your entire business. With calendar sharing and permissions (similar to those in Docs), you can add other employees' calendars to your own, and vice versa, in order to see and manage the big picture of your team's time.
For example, if an executive has an assistant, their calendars may be shared so that the assistant could manage his boss's appointments remotely from his own account. It's also a smart tool for coordinating meetings, calls, and shift staffing for multiple employees to avoid scheduling conflicts. Sharing multiple calendars with one "master calendar" creates a color-coded scheduling table for the coordinator that updates automatically when users make changes or additions.
The Calendar app can also be used to create events through Gmail. By adding your employees' e-mail addresses to an event, they will receive an invitation to respond. Responding 'yes' automatically adds a shared event to your calendar that each invitee can view and add notes to. It's a smart way to coordinate meetings and keep everyone in the loop.